ANNOUNCEMENTS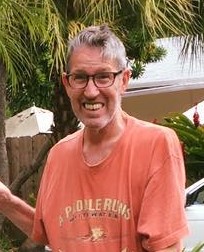 Brother of classmate Bob Hafey (deceased)
David Francis Hafey, 58, formerly of East Longmeadow, MA, New York City, Los Angeles and Boston, passed away on Friday, April 20, 2018 at his home in Fort Lauderdale, FL. David was born on March 9, 1960 in Springfield, MA, a beloved son of William and Therese (Callahan) Hafey, he was raised and educated in East Longmeadow and graduated from East Longmeadow High School in 1978 and later graduated from Stone Hill College with a degree in Chemistry. David grew up working in the family owned business, Jaycox Restaurant, located at the X in Springfield. This experience and working with his parents led him into the hospitality field. After studying dance in Boston and working as a chef, he moved to New York City where he worked at Chita Rivera's restaurant, "Chita's" and the Manhattan Bistro. He went on to Los Angeles, where he bartended, then back to Boston, where he was employed at numerous fine dining establishments and caterers. David was a beloved brother, uncle and friend. He was kind hearted and loved to travel far and wide. David relished spending time with family and friends. He enjoyed a good game of golf and a good laugh. David will be deeply missed by all who knew and loved him. He leaves behind his sisters, Patricia "Trish" Hafey of East Longmeadow, and Mary Hafey of Springfield; his nephews, James and Mark Aleks; many aunts, uncles, and cousins; special friends, Larry Rinaldi and Stephen Ponchak and by his beloved dog, Lamar. David was tragically predeceased by his parents, William and Therese and brothers, William and James Hafey in 1978, and later by his brother, Robert Hafey in 1986. Family and friends are invited to attend David's Memorial Mass on Saturday, May 19, at 10 a.m. at St. Michael's Church, 128 Maple St., East Longmeadow, MA. There are no calling hours. David's burial will be private.

Father of classmate Kathy (Docherty) Keane
Charles "Charlie" Francis Docherty, passed away peacefully on Thursday, May 3, at Care One at Redstone in East Longmeadow at the age of 92. Born on March 30, 1926, in Springfield, MA, he was raised and educated at Brightside Orphanage in Holyoke and moved to East Longmeadow as a teenager, Hollywood, FL, and Hailey, ID, before returning back to East Longmeadow more than twenty years ago.
Charles began his career as a Machinist at the former Chapman Valve Co. in Indian Orchard and the Springfield Armory. He continued working as a machinist at Hamilton Standard and subsequently as an insulator at the former U.S. Insulation Company in East Longmeadow. Charles was an avid sport's fan. He was frequently seen at the Springfield Indian's Hockey games in his younger years, as well as played both baseball and football. He ran his first marathon at the age of 60 in Hailey ID. Upon returning to East Longmeadow, he followed each of Boston's home teams; Red Sox, Bruins, Celtics, and the Patriots.
He was a blessing to all of his family and he will be dearly missed by all who knew him. Charles leaves behind his loving children, Kathleen L. Keane of Venice, FL, Dr. Patricia L. Ramsay of Henderson, NV, and Charles F. Docherty, Jr. of Springfield, MA; step daughter, June Thresher of Hailey, ID; his cherished grandchildren, Shannon, Darrell, Jennifer, Sean, Kevin, Katlyn, Kellie, Joshua, Elisabeth, Derek, and Cody and four step grandchildren, Sherry, Brandy, Raymond, and Malina, and 10 Great grandchildren. In addition, he was predeceased by his first wife, Lois M. (Drinkwater) Docherty Wilson in 2005; his second wife, Marie (Settle) Docherty in 1993: his son, William A. Docherty in 2017 and grandson Christopher 1983; and by his stepsons, Martin and Arthur Roy. All funeral services are private for Charles. There are no calling hours. In Lieu of flowers, donations in Charles's name may be made to Brightside-Sisters of Providence, c/o Mercy Medical Center, PO Box 9012, Springfield, MA 01102.
---
Just a quick reminder.....for those who would like an abbreviated class directory, please use the "contact us" button on the upper right hand of the home page. This listing has classmate names and addresses only. There are no emails shared or phone numbers shared. There are also a small number of people who requested that all of their information remain private. I will not divulge anyone's personal information without their permission. I will gladly contact a classmate for you and ask how (or if) they would like to be contacted. Please do not share their info with anyone else without their permission. Thank you.
---
---
How to Join
(It's free.........)
If you graduated from East Longmeadow High School in 1971, your name appears in the menu at the top of the page under the tab labeled "Classmate Profiles." Find your name, click on it, and you will be brought to the "Join Here" link. Follow the instructions on that page. If you have any questions, click on the "Contact Us" link at the top right of the home page. When you find your name on the Classmates list to create your profile, please include a narrative about your life since Graduation Day, June 15, 1971. Guest members are listed at the bottom of the profiles page. Thank you very much.
---
---
---
Please visit the other ELHS class pages on the Class Creator website. They contain a wealth of information, pictures, videos, recollections and much, much more. Offered are: 1964, 1970 and 1974. I extend a huge debt of gratitude to those class administrators for doing all the hard work for the rest of us to enjoy.