ANNOUNCEMENTS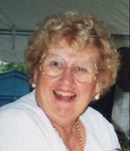 Mother of classmate Genny (McDyer) Bush
Thelma M. McDyer, 95, passed away on February 9, 2020 at Sunrise of Richmond in Richmond VA. Born on September 5, 1924 in Detroit MI to the late Arthur Mark and Myrtle (Ruzanski) Warner, she obtained her Bachelor's degree in Chemistry from Marygrove College, Detroit in 1944 and worked at Ethyl Corporation as a chemist. She met her husband Joe, a childhood crush, in her Detroit neighborhood and later reconnected with him after WWII, marrying in 1948. Together they had a loving family with six children enjoying camping trips to Cape Cod, White Lake State Park in NH. Thelma always had a movie camera in front of her face documenting her family's joys and thankfully so as it gives us all such pleasure to look back at the wonderful life she gave us. Thelma later obtained her Certificate in Education at Westfield State College after which she taught math at Kiley Middle School in Springfield for 20 years. She was a faithful communicant of St Michael's Parish in East Longmeadow as well as member and president of the St Michael's Catholic Women's Club. She was very active as a lay educator in the CCD program and participant in numerous church volunteer activities. Thelma enjoyed an active life playing bridge, golf, dancing. She was president of the East Longmeadow Democratic committee in her early years. Besides her parents, she was predeceased by her beloved husband of 68 years, Joseph R McDyer who passed away in February of 2017 and her siblings Clifford Warner, Mark Warner, Marilyn Deprest and Nancy Warner. To cherish her memory, Thelma leaves her sister Carol Yott of Long Beach, MS ; children Martha G. McDyer of Mechanicsville VA, Genevieve M. Bush (William) of Mechanicsville VA, David F. McDyer (Ellen) of Aston, PA, Joseph P. McDyer (Gay) of Feeding Hills, MA, Peter A. McDyer (Debra) of Southwick, MA and Julie L. Chirumbole (Frank) of Katy, TX; her grandchildren Emily Davis, Jonathan Bush, Elizabeth, Francis, Mary and John McDyer, Shannon Daily, Joseph J. McDyer, Peter and Kevin McDyer, Danielle, Anthony and Michael Chirumbole as well as great grandchildren Olivia, Kaitrin, Josephine, Jack, Boyd and Nolan. Family and friends are invited to gather on Friday, March 13, 2020 from 9:30 – 10:30 am at Forastiere Smith Funeral Home, 220 North Main Street, East Longmeadow followed by a Liturgy of Christian Burial at 11:30 am at St. Michael's Parish 128 Maple St., East Longmeadow. Committal Services will follow in the Chapel at the Massachusetts Veterans' Memorial Cemetery in Agawam at 1 pm. Memorial donations may be made in Thelma's memory to St Michael's Parish, 128 Maple St., East Longmeadow, MA 01028. For more information or to leave an online condolence, please visit www.forastiere.com.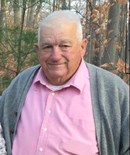 Father of classmate Nina (Lodigiani) Pare
Leonard C. Lodigiani, 91, formerly of East Longmeadow, passed away Tuesday, January 28, 2020. Leonard was born in Springfield, on January 9, 1929, the son of the late Giovanni and Adele (Figliossi) Lodigiani. He was educated at Trade High School in Springfield. He was a longtime parishioner of St. Patrick's Church in Springfield. Leonard proudly served our country in the United States Marines Corps from 1946 - 1950. He owned and operated L.C. Lodigiani Plumbing and Heating for many years. He loved fishing, gardening, and spending time with family. In addition to his parents, he was also predeceased by his beloved wife of fifty-four years, Helen M. (Partyka) Lodigiani, and a brother Edward Lodigiani. He is survived by his four children, a daughter Nina Pare of New Boston, NH; a son, James Lodigiani and his wife Karen of Norwell, MA; a daughter Anne Beltramello and her husband David of Suffield, CT; a son John Lodigiani of Suffield, CT, and a sister Eva DeGrandpre of Agawam, MA. He leaves nine grandchildren, Bryan, Cara, Lauren, Michael, Molly, Matthew, Mark, Lisa and Anthony as well as seven great-grandchildren. Family and friends will meet directly on Saturday, February 8, 2020 at 11 a.m. for a Liturgy of Christian Burial at St. Patrick's Church, 1900 Allen Street, Springfield. Burial and military honors will be private at the Massachusetts Veterans Memorial Cemetery in Agawam. In lieu of flowers contributions may be made to Loaves & Fish, P.O. Box 5127, Springfield, MA 01101. Arrangements entrusted to the Byron Keenan Funeral Home and Cremation Tribute Center, 1858 Allen Street in Springfield.
---
Just a quick reminder.....for those who would like an abbreviated class directory, please use the "contact us" button on the upper right hand of the home page. This listing has classmate names and addresses only. There are no emails shared or phone numbers shared. There are also a small number of people who requested that all of their information remain private. I will not divulge anyone's personal information without their permission. I will gladly contact a classmate for you and ask how (or if) they would like to be contacted. Please do not share their info with anyone else without their permission. Thank you.
Nancy
---
---
How to Join
(It's free.........)
If you graduated from East Longmeadow High School in 1971, your name appears in the menu at the top of the page under the tab labeled "Classmate Profiles." Find your name, click on it, and you will be brought to the "Join Here" link. Follow the instructions on that page. If you have any questions, click on the "Contact Us" link at the top right of the home page. When you find your name on the Classmates list to create your profile, please include a narrative about your life since Graduation Day, June 15, 1971. Guest members are listed at the bottom of the profiles page. Thank you very much.
---
---
---
Please visit the other ELHS class pages on the Class Creator website. They contain a wealth of information, pictures, videos, recollections and much, much more. Offered are: 1964, 1970 and 1974. I extend a huge debt of gratitude to those class administrators for doing all the hard work for the rest of us to enjoy.