ANNOUNCEMENTS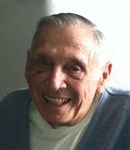 Father of classmate Matt D'Amato, Jr.
Matthew F. D'Amato, 94, passed away peacefully at home February 26, 2018 surrounded by his loving family. He was the cherished husband of Mildred (Cangro) D'Amato for 70 years. Born in Springfield, Mass he was the son of Antonio and Francesca (Marino) D'Amato. He was a graduate of Springfield Technical High School, class of 1942 and was a World War II Veteran serving with the U.S. Army 8th Armored Division. He was a resident of East Longmeadow for the past 65 years. Matt was employed as a Carpenter for 45 years and served as an East Longmeadow Call Firefighter from 1964 to 1978 retiring as a Lieutenant. He was a member of the Springfield Lodge of Elks #61, the Mount Carmel Fife and Drum Corp and a parishioner of St. Michael's Church. Besides his wife, he leaves two sons, Matthew, Jr. of East Longmeadow, and Richard and his wife Margaret of Greenville, RI, two granddaughters, Kristin D'Amato and Lyndsay Sperazzo and her husband Matthew and one great granddaughter, Nora Catherine Sperazzo. Matt was the brother of the late Rose DiGiore, Savino, Gaetano and Michael D'Amato, Uncle to several nieces and nephews and brother-in-law to Phil (Felicia) Cangro and Joseph (Marilyn) Cangro. Funeral Services will be Friday, March 2nd 9:00 a.m. from the Forastiere Smith Funeral Home 220 North Main Street, East Longmeadow, with a mass of Christian Burial 10:00 a.m. at St. Michael's Church, East Longmeadow. Burial with Military Honors will be in St. Michael's Cemetery, 1601 State Street, Springfield. Calling Hours are Thursday, March 1st 4:00 p.m. to 7:00 p.m. Donations may be made in Matt's memory to the Springfield Rescue Mission, P.O. Box 9045, Springfield, MA, 01102 or to the charity of the donor's choice.
---
Just a quick reminder.....for those who would like an abbreviated class directory, please use the "contact us" button on the upper right hand of the home page. This listing has classmate names and addresses only. There are no emails shared or phone numbers shared. There are also a small number of people who requested that all of their information remain private. I will not divulge anyone's personal information without their permission. I will gladly contact a classmate for you and ask how (or if) they would like to be contacted. Please do not share their info with anyone else without their permission. Thank you.
---
---
How to Join
(It's free.........)
If you graduated from East Longmeadow High School in 1971, your name appears in the menu at the top of the page under the tab labeled "Classmate Profiles." Find your name, click on it, and you will be brought to the "Join Here" link. Follow the instructions on that page. If you have any questions, click on the "Contact Us" link at the top right of the home page. When you find your name on the Classmates list to create your profile, please include a narrative about your life since Graduation Day, June 15, 1971. Guest members are listed at the bottom of the profiles page. Thank you very much.
---
---
---
Please visit the other ELHS class pages on the Class Creator website. They contain a wealth of information, pictures, videos, recollections and much, much more. Offered are: 1964, 1970 and 1974. I extend a huge debt of gratitude to those class administrators for doing all the hard work for the rest of us to enjoy.